How to succeed in B2B ecommerce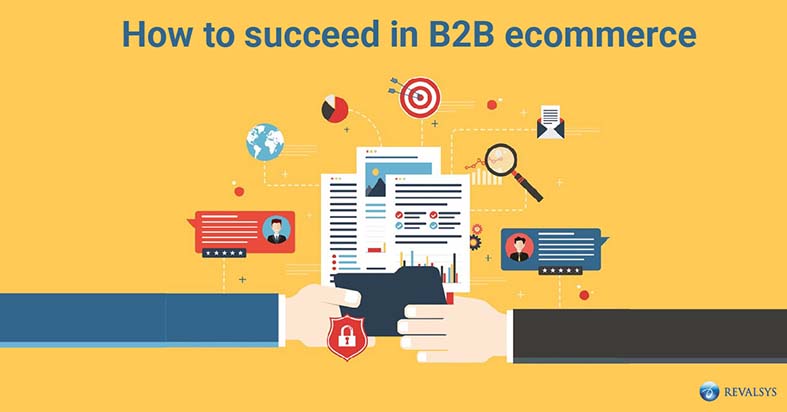 In a report published this spring, Forrester forecast that B2B ecommerce in the United States would grow from $780 billion in 2015 to $1.13 trillion in 2020. While that is clearly good news for online B2Bs, just having an ecommerce presence is not enough to succeed. So what can B2B businesses do to gain customers and market share? Here are six suggestions from B2B pros.
1. Know who you need to target. "Take the time to really understand who the decision maker is at the customer and how the hierarchy of influence works within each organization," says Seline Karakaya, COO, The Kini Group, a provider of business analytics software. "In some companies, mid-level team members have decision authority, especially in technology and marketing functions," she explains. However, "in more traditional industries, the decision makers might be more senior."
Therefore, it's critical to discover who decision makers are before you pursue a sale.
2. Optimize your website so prospective customers can find you. In its recent report on online B2B, Forrester found that 74 percent of B2B buyers researched at least one-half of their work purchases online. So it's critical that when prospective buyers are doing that online research they are able to find you.
"The power of SEO is unbelievable," says John Fairley, vice president of Digital Services, Walker Sands Digital. "There are over 22 billion internet searches made every month in the United States. So in order to make sure your business gets your share of that traffic, and that it translates into achieving your business goals, it's critical to invest in SEO."
"The importance of SEO in online B2B marketing cannot be overstated," agrees Susan Ganeshan, CMO, Clarabridge, a provider of intelligent customer experience management solutions. "Buyers don't want to talk to a salesperson until they've done their research, and that usually starts with search. If you're not one of the top ranked sites for what the buyer is looking for, then you likely won't get invited to the conversation."
To improve the odds of a qualified buyer finding you, "don't optimize for what you're selling. Optimize for what your buyers are searching for," she says. "Look to your customer feedback data from social, surveys, customer support and other sources [to] truly understand what your customers need and optimize for that."
3. Don't skimp on Web design and usability. "As more and more B2B buyers clamor for enhanced customer experiences, the brands that respond with robust online commerce capabilities will gain revenue and global market share, while those that ignore ecommerce will gradually become irrelevant to large sections of the marketplace," says Bob Barr, managing director, global B2B commerce lead at Accenture Interactive
"For whatever reason, there is a common misconception that a B2B website doesn't need to look terrific," says Austin Paley, director of corporate marketing, Blue Fountain Media. "And while a company's website focus should first and foremost be on performance and usability, something that looks unprofessional won't produce results."
Just like when you shop online, B2B decision makers are "often influenced by factors such as compelling imagery and engaging copy and Web design," he says. By "investing in the design of your site, you'll increase conversions."
4. Provide useful content. "My best tip on how to succeed in the B2B space, particularly in the online B2B space, is to develop thought leadership and domain expertise," says Karakaya. "From technology and widgets to consulting and professional services, everyone is looking for expertise in a particular area, an edge."
To do that, "publish educational, on-demand content (e.g., white papers, ebooks, podcasts, etc.) that helps solve a problem," says Tony Faustino, president, Faustino Marketing Strategies. "B2B buyers cite a vendor's website content as the second most important factor influencing the early purchasing decision. Therefore, enable the buyer with positive intent by publishing helpful, educational content."
5. Network on LinkedIn. "LinkedIn is a perfect example of a platform that allows you to demographically target and convert an audience of potential customers," says Andy Groller, vice president, digital advertising, DragonSearch, a digital marketing agency.
"From its networking capabilities to its professional atmosphere, LinkedIn is the go-to for B2Bs looking to utilize social media platforms to reach their audience," says Paley. "You can target [decision makers] based on title, industry, business longevity, etc., allowing you to really tailor your marketing to a specific audience," he says. "Making sure you're top of mind in places where your users are frequenting is crucial and LinkedIn is undoubtedly the social community to focus on when you're trying to reach decision makers at other businesses."
"By joining and participating in LinkedIn Groups within our company's area of expertise and industry, we have been able to reach new customers and gain additional exposure for our organization," reports Maddie Koerber, marketing manager, AVF Consulting. "Our team regularly updates our blog with industry-relevant news and then shares that content with the appropriate LinkedIn groups in order to start discussions. We began strategically leveraging Linkedin Groups at the beginning of 2015 and have seen a 630 percent increase in the amount of LinkedIn referral traffic to our website compared with the same time period in 2014."
6. Don't forget about customers after the initial sale. "Many B2B companies pay little attention to their customers once a deal is signed, unless there are complaints," says Jonathan Block, vice president, information technology, SiriusDecisions, a B2B research and advisory firm. "High-performing B2B companies focus on the entire customer lifecycle to improve retention, loyalty and advocacy." To succeed in the B2B space, "communicate with your customers, gather feedback and gain insights into their post-sale experiences."