KAR's auction operations: Thoughts on physical auction expansion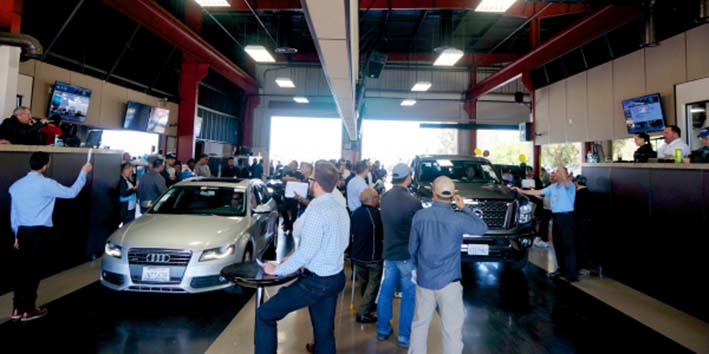 During the company's quarterly earnings call this month, executives with KAR Auction Services didn't rule out physical auction expansion in the future.
But during a follow-up phone interview, chief financial officer Eric Loughmiller did explain that competing for market share in a given metro area no longer absolutely requires the ADESA business unit physically moving in and setting up shop, either through acquisition or building.
That was not the case, say, three years ago, he said.  But things have changed with the services of online offerings like TradeRev.
Given that online toolbelt, KAR doesn't necessarily have to a buy an auction in a given local area to be able to have a presence there.
The company can take care of business in a given local area, "and provide an efficient alternative for wholesale transactions without a physical presence," Loughmiller said.
"And again, we're not trying to ruin everybody's local business, (but) at the same time, we have tools that can make a more efficient transaction," Loughmiller said. "And the dealers are looking for that, and we can serve that part of the market."
But, again, that's not to say auction expansion is off the table.
Later in the follow-up interview, KAR chief executive officer Jim Hallett, who joined Loughmiller on the call, explained what the ideal scenario would have to be for an auction purchase. There are four or five points of criteria KAR would have to consider, he said.
That begins with the location, seller mix and buyer mix.
"No. 1, I'd want to look at the geographic location.  No. 2, I'd want to take a look at the customer mix. And taking a look at the customer mix, that also gives me an opportunity to take a look at the buyer base. Is it a buyer base that we don't have? Is it a buyer base that we're not doing business with?" Hallett said.
Loughmiller added, "And then we always look at their fee structure. There may be an opportunity for us … to serve that market more efficiently and charge them a little bit more for it, a little bit less, whatever it is.
"As an example, what if they're not offering transportation, like CarsArrive? We have other revenue we can drive from a site, and if we see that potential, that makes us very interested," Loughmiller said.
It's about how KAR can integrate its other lines of service, Hallett added, like floor plan financing, transportation or dent repair. Or, for instance, the line of various asset recovery services provided by the PAR North America piece of KAR.
Say the client has a good bit of repossession volume, given that they're in an area with a tough job market. Perhaps PAR is handling the repo remarketing but is having to ship those vehicles elsewhere, Loughmiller said.
It could be helpful in that instance to have a local presence, with PAR handling the remarketing of repossessed cars on behalf of banks and captive finance companies.
At any rate, one change in how ADESA might look at physical auction expansion has to do with land, which isn't as much of a priority as it once was.
"Fifteen years ago, the land would have been very valuable to control. Now the land is incidental to the things we're looking at. We're looking at everything else in the business," Loughmiller said. "And it comes with a little bit of land that we will utilize. But the land is not the most valuable asset anymore. It's the customer base and the things Jim mentioned."
Big expansion in ADESA auctions is not unprecedented. Over the course of five months between November 2016 and March 2017, the company made two such moves, acquiring Flint Auto Auction and then opening ADESA Chicago. That followed ADESA's purchase of Sanford Auto Dealers Exchange  and the Brasher's Auto Auctions earlier in 2016. That string of activity appears to be the latest major physical auction launches or purchases by ADESA in the U.S.
Of course, the operations of KAR (and ADESA itself, for that matter) go far beyond the sale-day transactions at auto auctions. And that's where much of the KAR buying activity has focused in more recent years.
Though it has been KAR's strategy to stick with the wholesale side of the industry, its acquisitions in recent years have dealt with a variety of pieces of the wholesale remarketing spectrum — including online sales (CarsOnTheWeb, TradeRev), data science/analytics (DRIVIN), recovery management (Clearplan) and mobility fleet services (STRATIM).
In light of this, Auto Remarketing asked Hallett if there are any gaps to fill on that end-to-end remarketing spectrum or are potential purchases down the road meant to be tech-based/add-ons to existing lines of business.
"I don't think there's any major holes. And as I said (during the earnings call) … we're a world-class remarketer of automobiles. And everything that we invest in has to enhance the opportunity to remarket cars," Hallett said. "So, if it doesn't feed in to help us remarket cars, more volume, stronger prices, stronger proceeds, better for the dealer — however you want to count it — then it's something that I shouldn't be interested in, if it doesn't do that."